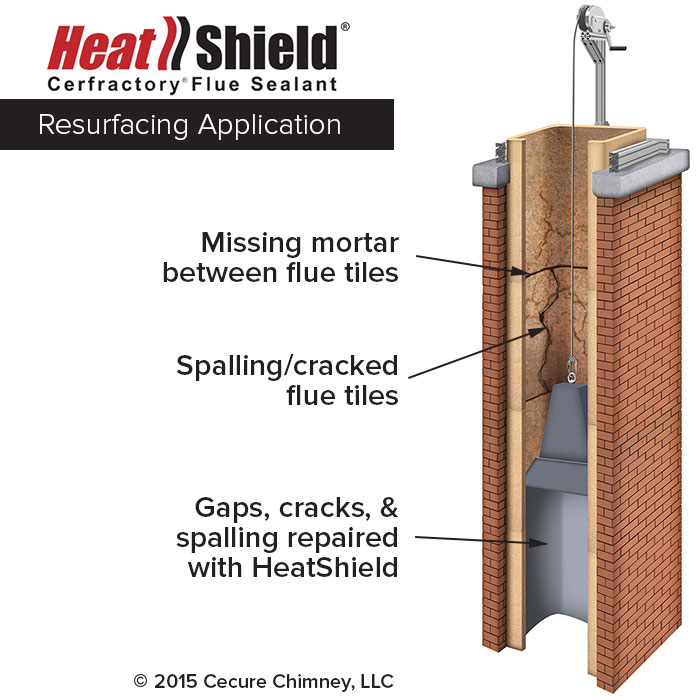 HeatShield has become a popular and reputable name in the chimney service industry. Heatshield Cerfractory Flue Sealant is another popular product used in an important type of treatment. Here is a closer look at how it works.
A regular chimney sweep may reveal cracked chimney tiles. One of the fixes to this issue is the use of Heatshield Cerfractory Flue Sealant. This product is a specialized formula that aims to reshape the integrity of a chimney. This is done by fixing issues in the chimney flue, which will also help to prevent dangerous gasses from seeping into your home. The sealant can also address the following problems:
Cracking – Cracks in the flue tiles may cause a chimney fire. This can be brought on by a natural occurrence, such as a lightning strike. It can also be a result of a home settling over the course of time or by faulty workmanship.
Gaps – There is an obvious concern anytime there are gaps in a chimney. These are basically caused by the erosion of mortar, which is expected with time.
Spalling – This is also referred to as flaking. It is a result of the moisture that forms after the continued combustion of wood. And continued spalling can prove to be a health risk.
A chimney flue liner is intended to protect people from any hazardous gasses that may filter into a home. That is why it is important to have a flue that is solid and impenetrable. Heatshield Cerfractory Flue Sealant keeps soot and creosote from escaping through any openings and is a treatment service offered by professional chimney sweeps.
The Heatshield Cerfractory Flue Sealant was created more than 20 years ago and continues to be an affordable solution for homeowners experiencing problems with their flue. The product is also eco-friendly as it is composed of natural and recycled materials. The sealant is capable of sustaining temperatures that surpass 2900° F. It has also passed codes set by the National Fire Prevention Association (NFPA).
The application of Heatshield Cerfractory Flue Sealant is done by trained professionals who have experience in resurfacing the interior of a chimney. A tie coat is applied before the HeatShield Cerfractory Flue Sealant and acts as a primer. There is a precise way this treatment is done as HeatShield is more than just a product, but a way of addressing issues with your chimney flue.
To get chimney repairs started right away, call the experts at All Out Chimney Sweep. Their highly trained staff will inspect your chimney and make any necessary repairs to ensure the safety of your household.